The B2B buying process has massively changed.
According to a recent Forrester report, 68% of B2B buyers prefer to research on their own, online; and 62% say they can now develop selection criteria or finalize a vendor list — based solely on digital content.
Separately, B2B buyers increasingly expect more personalized, consultative engagement:
82% of B2B buyers want the same experience as when they buy for themselves and expect vendors to personalize engagement to their needs. (Salesforce State of Sales)
So what does this all mean?
The availability of quality information through digital channels has made it far easier for buyers to gather information independently, meaning sellers have less access and fewer opportunities to influence customer decisions. Then when sellers do reach out, generic "spray-and-pray" messages are no longer an option, as buyers expect personalized experiences catered to their individual needs.
Enter Outreach
This is where companies like Outreach have stepped in. Outreach is a sales engagement platform that helps sales teams scale their prospecting and optimize their communications with potential buyers. It provides a way to send emails and track performance, while also helping to coordinate automated, personalized messages to drive more engagement.
It's easy to see why teams love Outreach, and why some reps have gone as far to say, "Outreach is by far the most effective prospecting tool I've ever seen in my sales career."
But Outreach alone doesn't completely solve the problem. Identifying what companies to reach out to and how to personalize your messages with the right value proposition is still a challenge.
This is why we're pleased to announce our new integration with Outreach to help close the gap.
Outreach + BigPicture
BigPicture notifies you of new and existing prospects on your website actively researching your product, allowing you to reach out to them with tailored email content.
BigPicture identifies web traffic by dynamically converting the IP address of visitors into a rich profile, and with our new Outreach integration, we automatically match visitors to your accounts in Outreach.
Identify Hot Opportunities
Our dashboard makes it simple to see what accounts are on your website and their engagement level.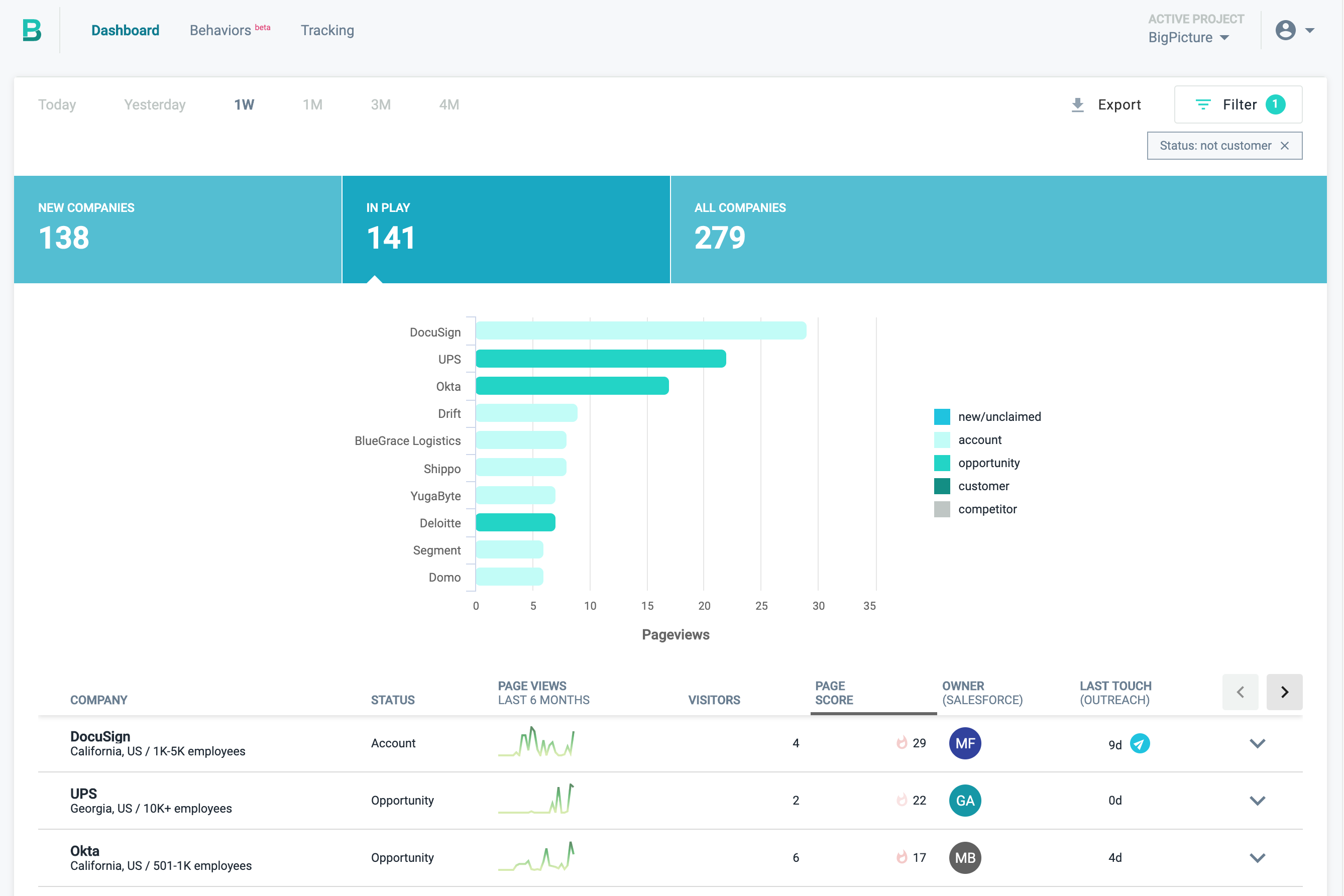 Once the Outreach integration is enabled, you'll see an additional column in your dashboard that includes the last touch date and an icon indicating whether the account has an active sequence.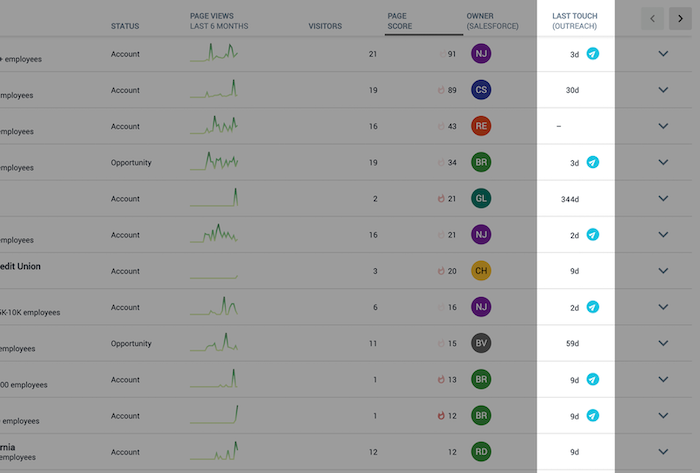 Hover over a cell to see a tooltip with some additional details, including when the account last engaged: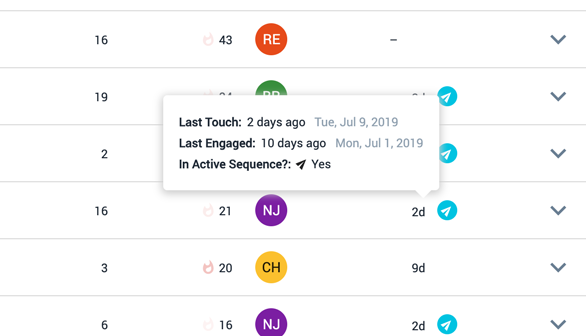 This makes it easy to see active accounts that aren't being worked yet.

Additionally, this data is available through our automation engine, so you can have actions fire depending on an account's state in Outreach. Our team is available to help you setup custom automations as needed, and we have a number of new features in the pipeline that will deliver even more value.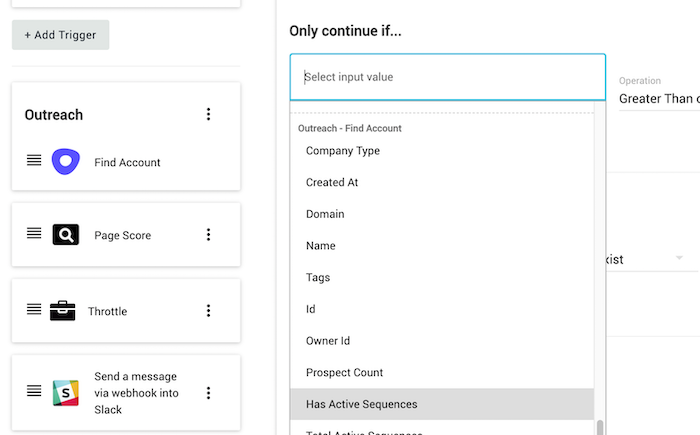 Create Hyper-Personalized Messages
Once you identify an account that is showing serious interest and not being actively prospected, BigPicture provides the information to understand the intent of the visitor and craft a personalized message.
Below is a sample of what you'd see when you expand a row for an account on our dashboard.

In this example, the data tells a compelling story about the account - PagerDuty.
They are presently using Demandbase (a competitor) and Marketo.
They are looking at pages that suggest they are evaluating BigPicture and Clearbit (another competitor).
They are looking at our documentation for our Salesforce & Outreach integrations.
So what can we tell here?
Based on their technographics, we can assume they have a budget for sales & marketing tech and are qualified.
They are in-market and are actively researching solutions.
A great opener for a message could be mentioning why we're better than Demandbase / Clearbit and our native integrations with Salesforce & Outreach.
From this data, we can assume it's a great time to reach out with a personalized email sequence on Outreach, and there's a high probability the message will convert.
A Case Study
Before releasing our Outreach integration publicly, we've been working closely with a number of early customers.
Jimmy Guerrero, VP Marketing at Yugabyte, set the goal for Q2 to identify opportunities higher in the funnel and launch an email campaign on Outreach within 24 hours of peak engagement from the account. Here's what he had to say:
"By combining BigPicture's ability to turn anonymous traffic into opportunities with Outreach's sales engagement platform, we are now able to launch highly personalized and multi-dimensional campaigns in a matter of hours vs days."
Interested in seeing how the power of Outreach and BigPicture can help you increase your outbound email conversion? Book a meeting to learn more.