If you're working in marketing or demand generation, you're likely familiar with B2B intent data. TechTarget, who has been around since 1999 and went public in 2007, is one of the behemoths in this space with their focus on B2B tech vendors.
So how does BigPicture stack up against TechTarget and their Priority Engine? Let's get into it.
What is B2B intent data?
First, a quick primer on the state of B2B buying and where intent data comes into play.
All the latest research has made it clear that the B2B buying journey has changed:
92% of B2B purchases start with search.
68% of B2B buyers prefer to research online on their own.
60% prefer not to interact with a sales rep as the primary source of information.
Only 17% of the buying journey is spent meeting with potential suppliers.
The summary? Teams are doing their own research, evaluating solutions, and only reach out to reps near the end of the buying journey, if they reach out at all.
How can intent data help? If buyers are doing their own research, any insight that reveals they are actively searching with the intent to buy (in-market), gives your team a significant advantage over the competition.
How does TechTarget work?
TechTarget is primarily designed for marketers at enterprise B2B tech vendors. It manages a network of technology-specific content websites, with the aim of identifying purchase intent gleaned from site visitors.
The typical path goes like this… A prospect starts doing research for a new purchase at their company. Through the search process, they may come across an article by TechTarget.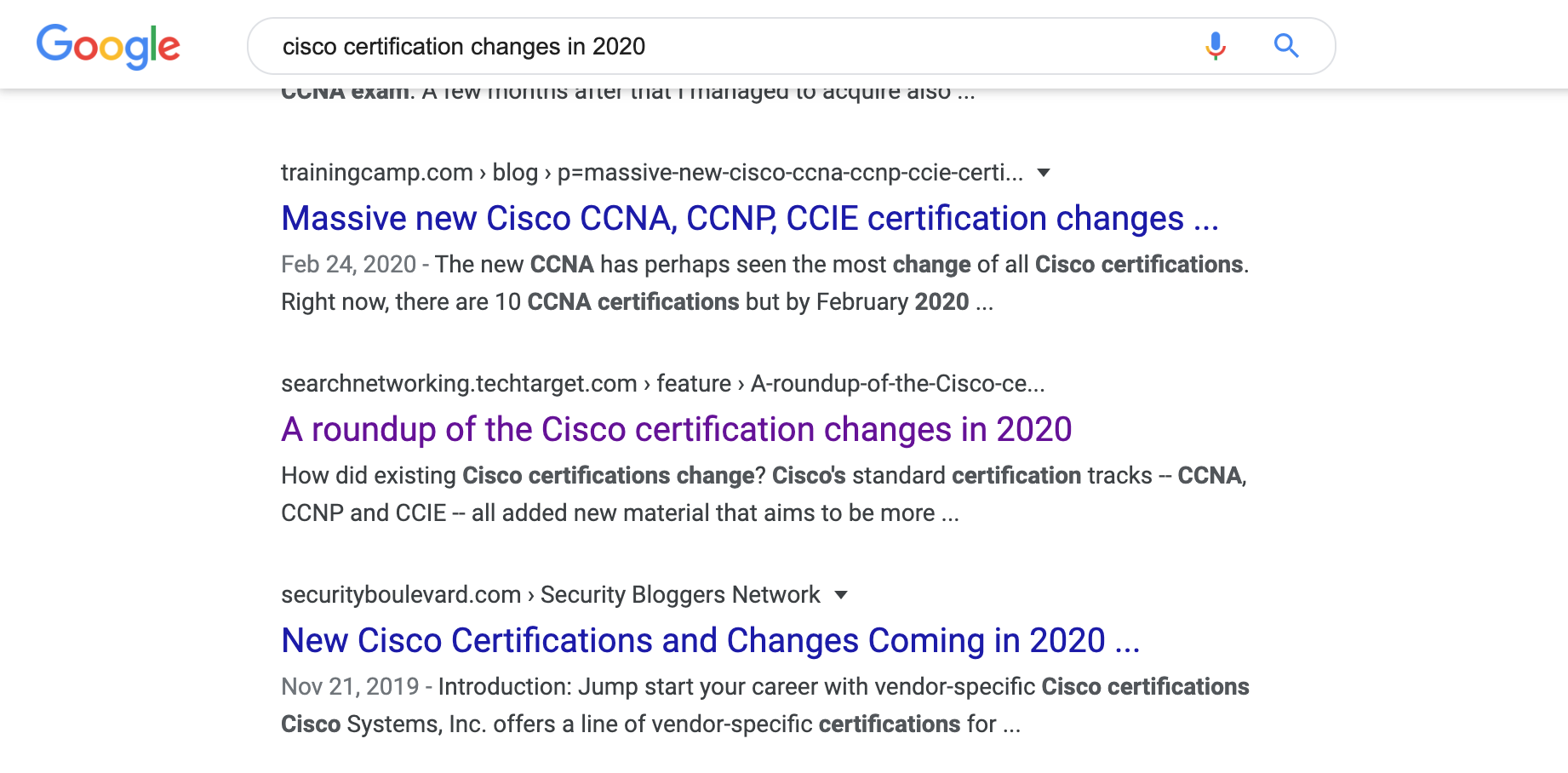 From there, the prospect clicks through and lands on a page like this: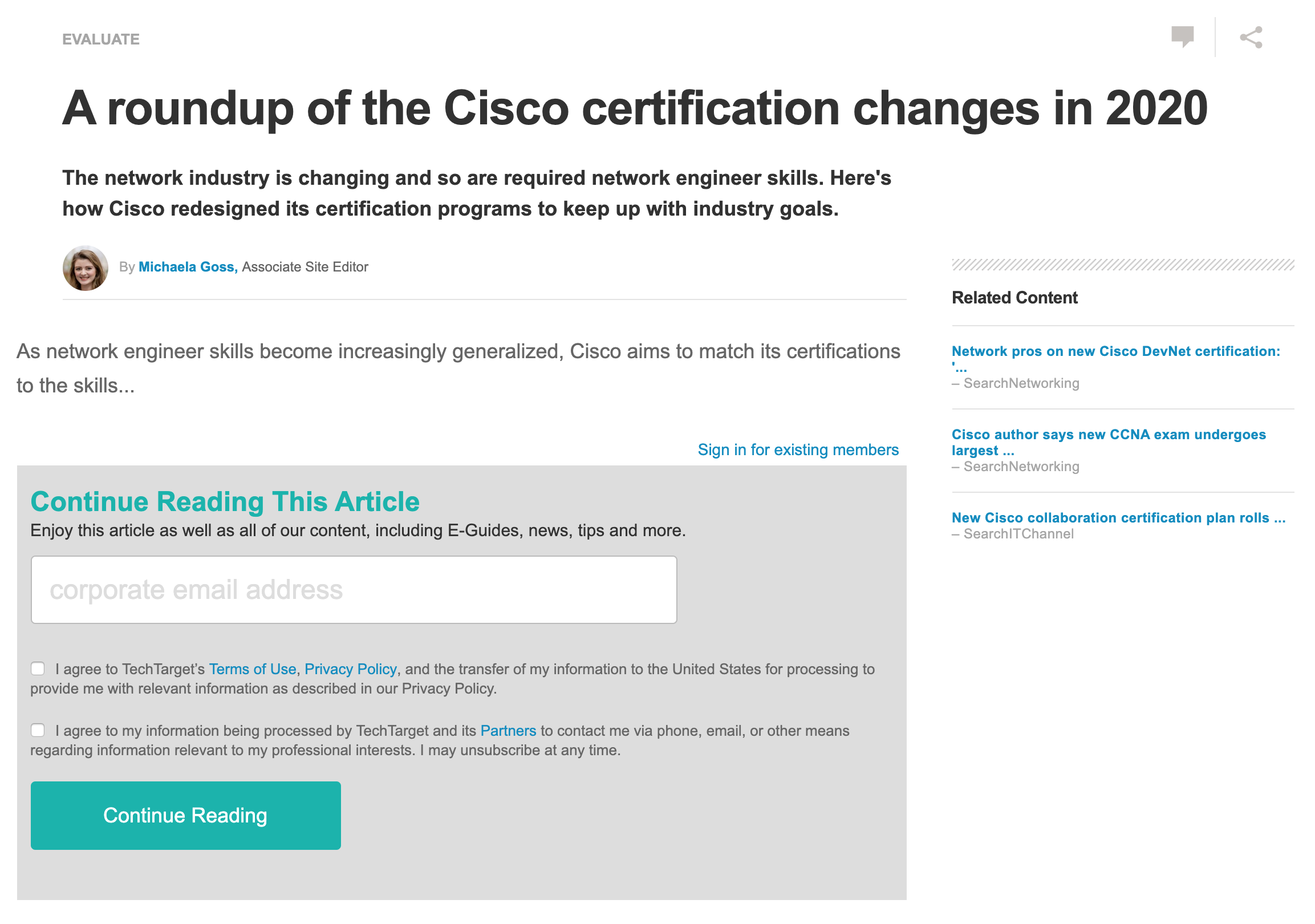 To read the article, the prospect enters their email and consents to be contacted. From there, TechTarget will track what content the prospect reads, combine this with 1st party website data, and surface the account to TechTarget customers in the Priority Engine dashboard.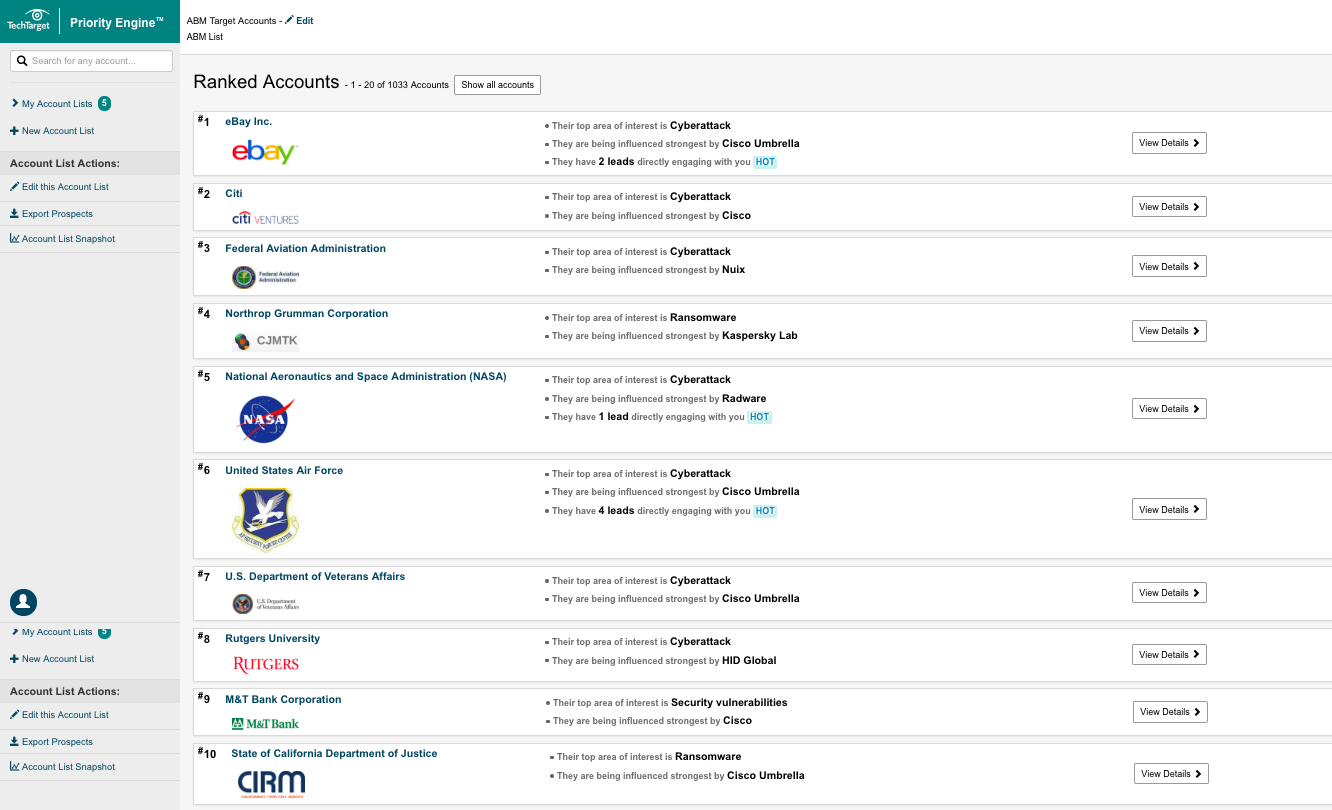 The Pros
Large content network to identify prospects
This enables TechTarget customers to identify prospects that have yet to visit their website and provides information around what topics the prospect is interested in.
See contacts for each account
Since it has a sizable opt-in audience, you can often see individual contacts for an account and what topics they have been browsing. This makes it easier to identify who to reach out to.
Enterprise integrations
Designed with enterprise B2B marketers in mind, it integrates with the top tools such as Salesforce, Marketo and Pardot.
Segment and build account lists
Allows you to focus on and prioritize contacts according to your target audience.
Detailed firmographic data
Get up-to-date account data from DiscoverOrg and installed technologies at the organization from HG Insights.
The Cons
It's expensive
Apart from being an enterprise tool, since it relies on a number of 3rd party data providers such as DiscoverOrg, HG Insights, and Kickfire, those costs are passed on to customers. Pricing is hard to come by, but estimates found online come in at $90k a year or $30k a quarter.
Lack of website activity data
Beyond topic segmentation, there's no way to see what specific pages were viewed and when. In particular, page from your own website. This is one the biggest complaints by sales teams and mentioned often in public reviews.
Designed primarily for marketers, not sales
Ultimately your sales team is the one leveraging this data and reaching out to accounts. In addition to a dated UI, there are no integrations with Outreach and Salesloft, which have become the standard tools for sales teams.
Inaccurate data at times
Since it heavily relies on user generated data across its network, reviewers have mentioned they are occasionally provided with the wrong contact data, or outdated data, where the contact no longer works at the company.
Hard to get data out
The value of TechTarget is in the data, yet it's challenging to get the data out for analysis or downstream automation. They've made some progress on this front with Priority Engine Email Alerts, but it's lacking common features such as integrations with Slack, Zapier, or webhooks.
How does BigPicture work?
BigPicture is meant to be setup by a marketer or demand generation lead, but its dashboard and accompanying features are designed for the intended end user - sales teams.
When you install BigPicture on your website, it begins identifying accounts via visitors' IP address and form submissions. From there, it matches the data to existing accounts in your CRM and sales engagement tool like Outreach.
Here's what the dashboard looks like: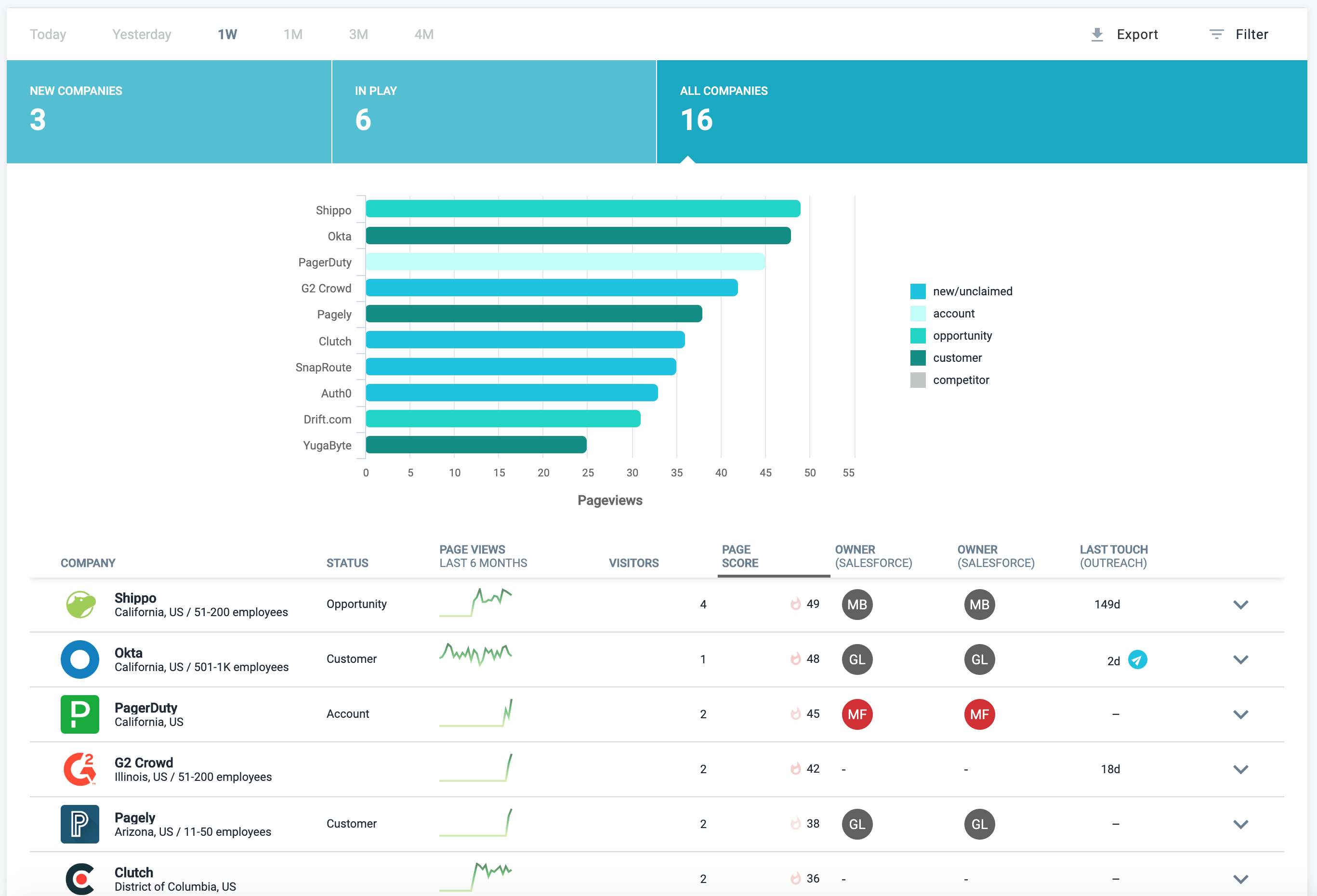 It's easy to see who is already a customer, what accounts have already been contacted by sales, and what pages are being viewed on your website.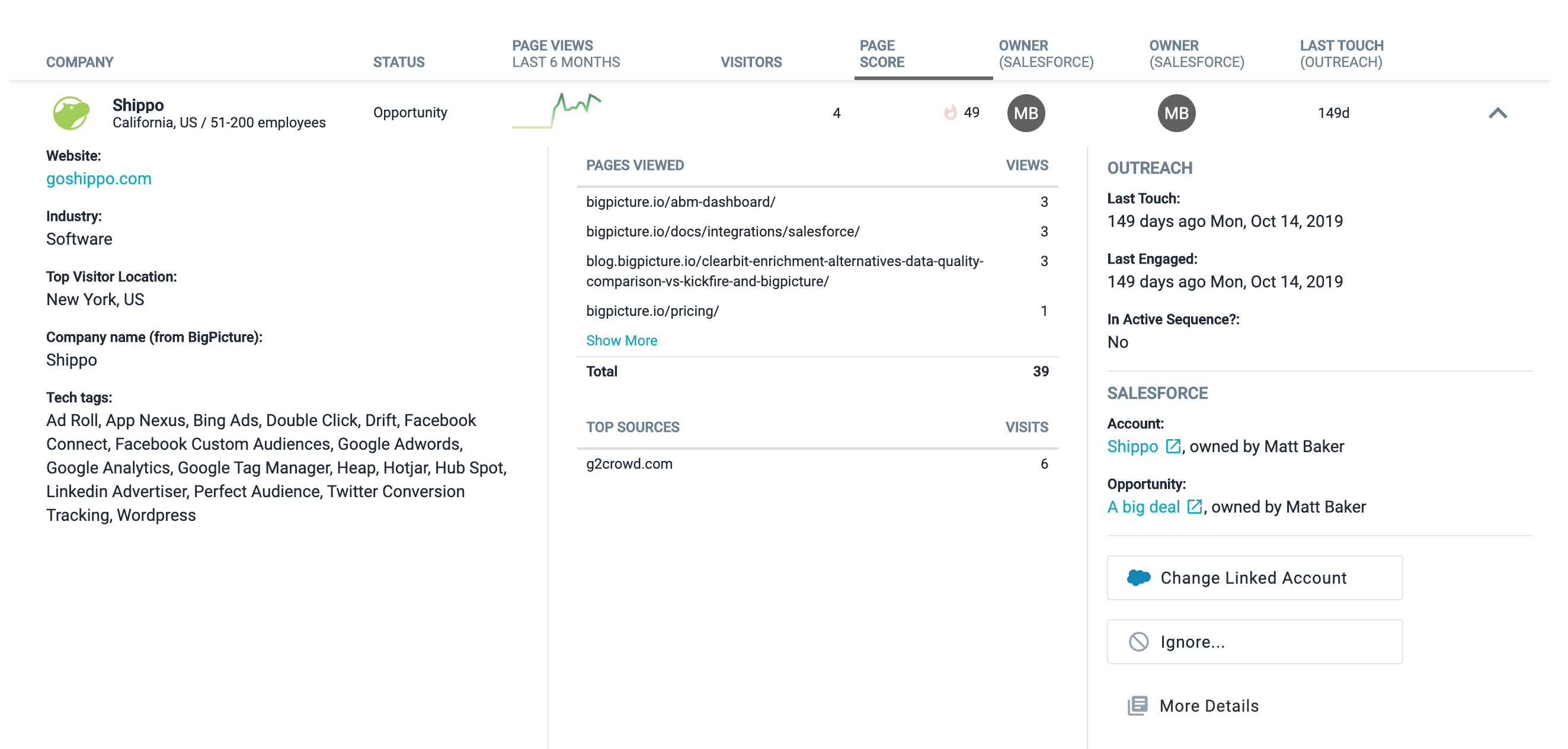 Apart from the data, the real value is in BigPicture's real-time automation capabilities.
Want to be alerted on Slack when a target account hits your pricing page? Done.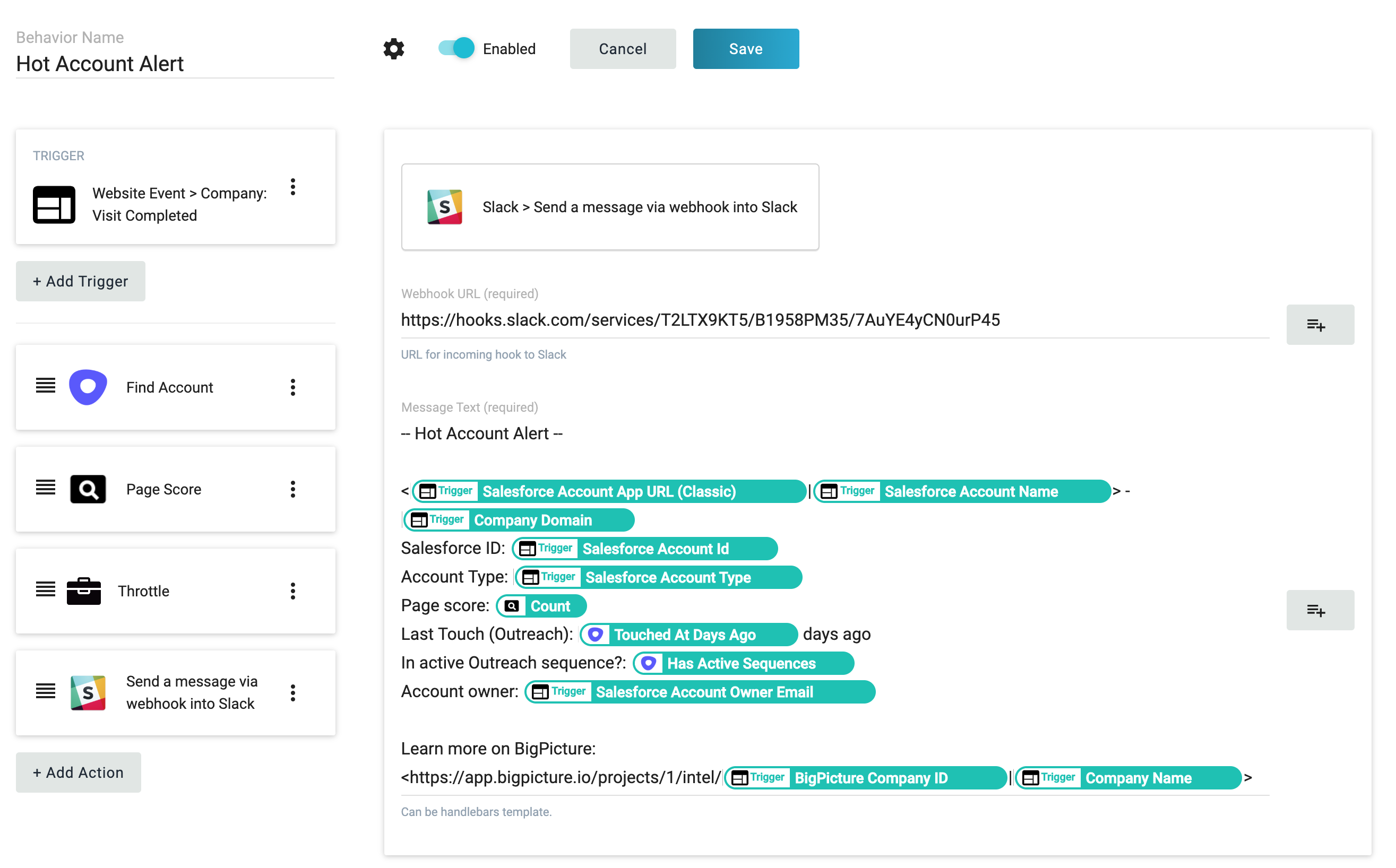 How about pushing account data into Zapier, real-time page view data to a Google Sheet, or automatically finding contacts in ZoomInfo? BigPicture makes it easy to get your data out, and start doing stuff with it.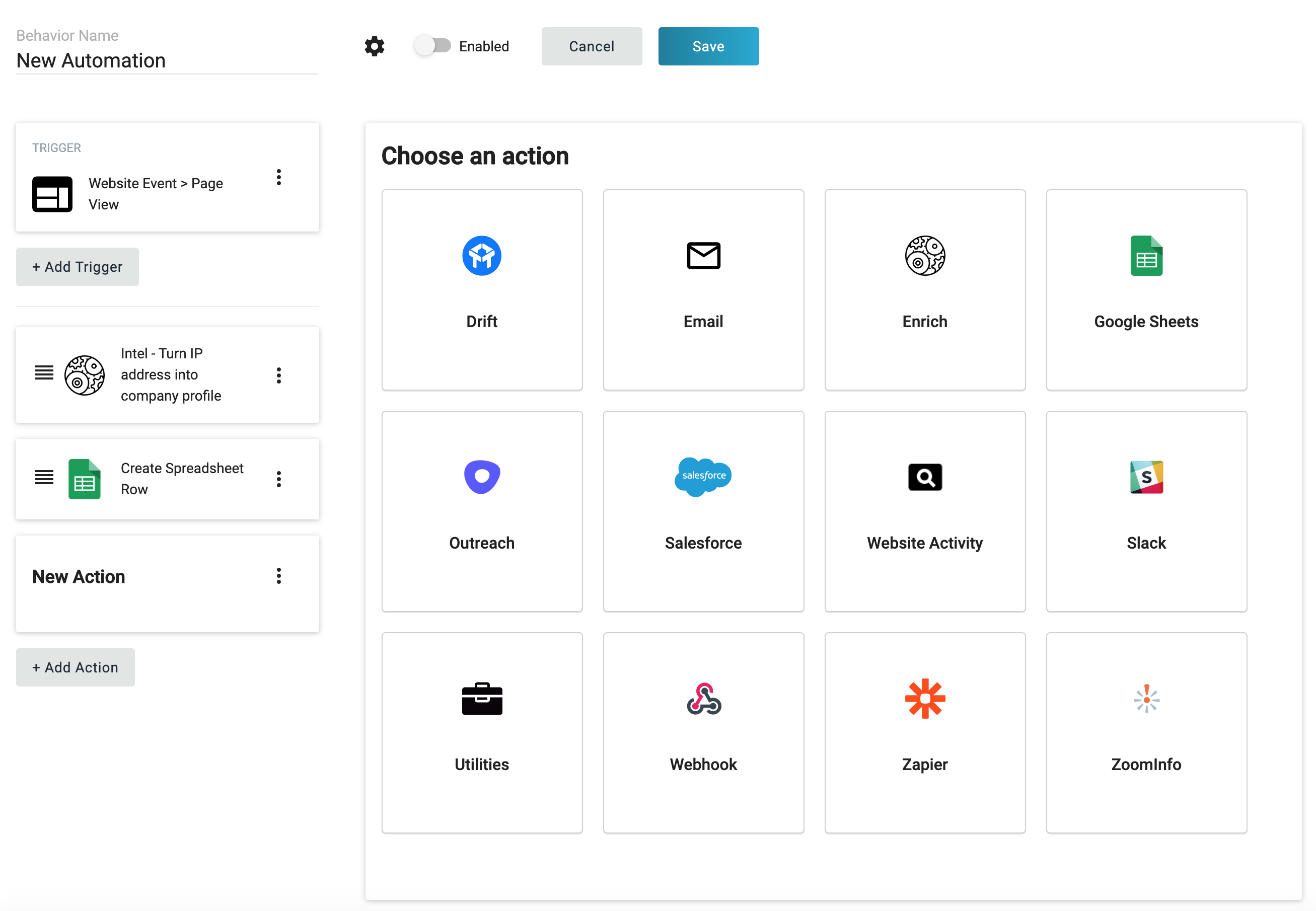 The Pros
The price
BigPicture is currently targeting SMEs (small & medium enterprises), so it's priced accordingly. Second, BigPicture cut out the middle man and built its own data enrichment services. So rather than pay a 3rd party for data, those savings are passed on to customers.
The data
Apart from detailed firmographic data, BigPicture provides direct access to all the low level visitor data for each account. This includes aspects such as page views (url/title), visit date & time, and even the approximate geolocation of visitors from their IP address.
Reviewers have mentioned this level of insight being valuable not only for sales reps, but marketers as well in helping to plan their B2B content strategy.
Designed for sales teams
With native sales integrations like Salesforce & Outreach front and center, it's intended for outbound sales teams. A simple, modern UI and advanced segmentation capabilities, make it easy for reps to quickly get in and out of the dashboard - or avoid the dashboard altogether and push data via automations into the tools and workflows they already have.
Automation
Inspired by Zapier, BigPicture has its own automation capabilities called Behaviors. With the ability to run fine-grained rules and multi-step actions based on real-time website activity data, there's a lot of power at your fingertips.
Popular Behaviors currently include real-time sales alerts, inserting data into Salesforce, and pushing data out via Zapier, Google Sheets, and webhooks.
APIs
If you want to do something custom, you can leverage BigPicture's APIs to do whatever you can dream up. Some customers have begun leveraging the APIs for real-time website personalization, integrating with external systems, or simply inserting the data into their own databases.
The Cons
Limited to data from your own website
Unlike TechTarget, BigPicture does not have a large content network to pull from. So you are limited to accounts visiting your own website, which may be an issue if you don't have a lot traffic yet.
Lack of contacts
Related to the above, BigPicture does not have an external opt-in contact network, nor does it presently show contacts at an account who visited your website.
A common workaround for now is to leverage the visitor geolocation of the identified account, then search for contacts on LinkedIn that match your persona at the given location. With that said, expanded contact data is one of the more requested features and something our team is actively exploring.
Limits of the IP data
If a visitor fills out a form on your website, we will match the account via the visitor's email, otherwise we attempt to identify the account from the IP address. Although account lookup via IP address is a powerful resource, it naturally is not 100% accurate.
Our team has invested heavily into building an AI powered platform that maps and classifies billions of IPs. So even though we can't guarantee 100% accuracy, our data is among the best available and continually getter better.
Limited enterprise integrations
Being a sales focused product, common marketing integrations are missing such as Marketo and Pardot. Additionally, while BigPicture does have native integrations with the most popular sales tools, Salesforce and Outreach, integrations with other tools like Hubspot, PipeDrive and Salesloft are still in the works.
Limited enterprise features
While BigPicture works with a number of large companies, enterprise is not our current focus. So while we have support for teams, are GDPR compliant, heavily prioritize security, and follow best practices, we are currently missing common enterprise features like SSO, SAML, and role based access.
End Summary
If you are a large company that requires enterprise level features, sells primarily to a tech focused audience, has the budget, and doesn't mind the lack of website page view data, TechTarget is a solid tool for your team.
If you aren't looking to spend $90k, want access to the detailed website activity data for an account, you're interested in automating this process for your sales team, and you don't mind the limited enterprise features, BigPicture might be a good option to explore.
We hope you find this comparison helpful. If you have additional questions or would like further info, feel free to reach out to our team.